It's easy to fall into the New Year's resolution trap. January 1 rolls around and resolutions for the year ahead are often hastily made without consideration of the bigger plan for your life. It's therefore not unusual to limp into February with a string of broken resolutions and no clear idea of why they were so important just a month ago.  Maybe we need something more than a date on the calendar to help us reassess our goals and dreams?  Let us introduce you to "ikigai", the Japanese ideology that, when translated, means "a reason for being".
What is ikigai?
A combination of the Japanese words "iki" or life, and "gai", used to describe value or worth, this word refers to having a direction or purpose in life – or more simply, your ikigai is what gets you out of bed every morning and it's what makes your life worthwhile.
In practice, the ikigai concept is based on finding the sweet spot where 4 fundamental values overlap – as per the diagram below.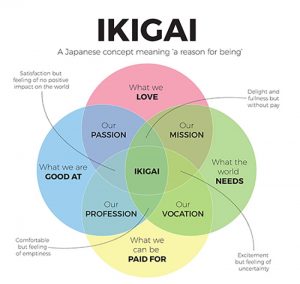 Your ikigai is the place in the very middle, where you find a balance between all the aspects surrounding it.  If you're retired, you may not have to worry about what you can be paid for, so you can delete that one and focus on the remaining three.
Tokyo-based neuroscientist, writer, and broadcaster Ken Mogi writes in his 2017 book, The Little Book of Ikigai: The Essential Japanese Way to Finding Your Purpose in Life, that it doesn't matter whether "you are a cleaner of the famous Shinkansen bullet train, the mother of a newborn child or a Michelin-starred sushi chef' – if you can find pleasure and satisfaction in what you do and you're good at it, congratulations you have found your ikigai."
Finding your ikigai
Depending on how far you want to dive into this, a quick Google search will bring up a myriad of tips and worksheets to help you find your ikigai.  Hector Garcia, a writer who has released a number of books on this theory, including Ikigai: The Secret to a Long and Happy Life also makes several suggestions:
Start by putting together a note of the top 10 things you have spent your time on this week. After writing them down, ask yourself if those things are adding purpose to your life. You can subdivide by asking yourself four questions:
Is it something that I love doing?
Is it something the world needs?
Is it something I'm good at?
Is it something I can get paid for? If it's not something you can get paid for, is what you can get paid for a good trade-off for really financially supporting your ikigai?
If this all feels a little too regimented for you, perhaps simply use each of the 4 qualities as a prompt to think about what is and isn't working in your life and where you might like to be directing your energy and time.  If you have figured out your ikigai, don't be afraid to share your ikigai with your financial adviser – it will no doubt open up some very productive conversations about your goals, your circumstances and what direction you would really like to be heading in.